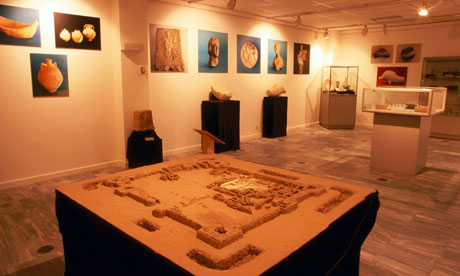 The Guardian put out an article describing the many important pieces of artwork and historic treasures that were scavenged during the Gulf War. The first part of Martin Chulov's article is below:
In a spacious but frugal office in Kuwait, a glossy catalogue lists the dozens of reasons why Kuwait and Iraq are still at daggers drawn after all these years.

Sheikha Hussa Salem al-Sabah thumbs through the pages of the booklet, pointing out the most egregious cases – page upon page of priceless treasures looted by Saddam Hussein's invading army 20 years ago and still missing: a dazzling 234-carat emerald the size of a paperweight; a slightly smaller gem inscribed with exquisite Arabic calligraphy; Mughal-era ruby beads.

"The Iraqis still don't understand the damage they did to us, not just financially, but for our souls," says the daughter-in-law of Kuwait's emir Sabah Al-Ahmad Al-Jaber Al-Sabah, who maintains the dynasty's heirlooms. "It was emotionally wrenching and still is."

Though many of the priceless treasures have been returned to the collection in the bitter decades since, up to 57 remain missing – perhaps lost for ever. At the National Museum across town, they report that the whereabouts of another 487 treasures remain unknown.

Many of the pieces, Kuwaitis believe, now form the core of private collections in post-Saddam Iraq and around the Arab world. To the victims of the 1990 invasion they remain the central reason of a failure to close the unfinished business of the first Gulf war – just as the second one is beginning to wind down.

In the seven years since Saddam was ousted, Iraq has been obliged to settle United Nations-prescribed debts of $43bn (£29bn), and compensations to private families totalling several hundred million dollars more, before being welcomed as a fully-fledged member of the so-called community of nations.

It is a burden that has proven difficult to bear for a brittle state still ravaged by war and chaos and deeply resentful of the fact that Kuwait was not invaded in the name of the current regime in Iraq.

To Iraq's wealthy southern neighbour though, neither 20 years nor the time after Saddam has diminished the desire to reclaim what was lost.

With a higher per capita income than most other Gulf petro-states, Kuwaitis remain sensitive to the claim that their residual hostility is all about getting even richer. "This is about principle," says Sheikha Hussa. "It remains a huge dilemma for us. The people here have a say in everything we do and the parliament does also. This is part of Kuwait's rights and we will continue to press them."